Whilst we're half way through 2012, it's time to begin thinking about the exciting things 2013 has to offer. In the world of diving, OZTeK– the Australian Diving Technologies Conference and Exhibition- is preparing for it's biannual industry event, to be held on 16 and 17 March 2013 in Sydney.
OZTeK is acclaimed for its superiority in the diving world. Since its inception in 1999, OZTeK2013 is the event of all events. The conference invites everyone who has a shared interest in diving to attend; particularly store owners and operators, divers and instructors.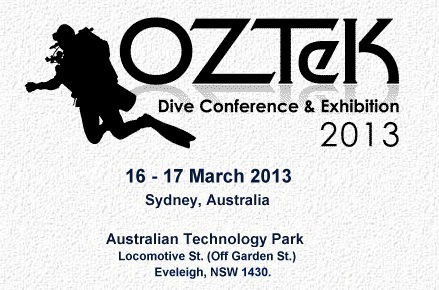 This two-day event is entirely devoted to all things DIVING. Produced by divers, for divers, the conference will showcase an array of latest technologies, promote the exhilaration and adventure of the sport, as well as present the most prominent world leaders in the industry.
Over two days, OZTeK highlights the essence of diving and brings to the forefront its passion, adventure, excitement and wealth of knowledge, not just to the sport, but also to the underworld. It is not about online reservation software, but at Rezdy we love all things diving.
OZTek's abundance and wealth of knowledge is second to none. The Conference and exhibition is a great platform to stage the latest diving gear, technology as well as share advice, tips, and maybe a few tricks of the trade. Not only does OZTeK provide a wealth of knowledge and information, but it is also an avenue for you to increase your brand awareness and promote your services, your products and share your skills with others in the industry.
If you would like to meet us and discuss your diving reservation system, please contact us before the conference to make sure we can fit you in our schedule. Booking is essential.
This is a highlight event on the international dive industry calendar. Whilst it seems cliché to say "It's a not to be missed event", according to past participants and guests, it appears to be the case!
Conferences are just one small piece of the puzzle to moving your tour and activity business online.