Displaying photos of your tour or activity is a great way of generating interest from prospective customers. If what you're offering is absolutely fantastic, but you don't have any images to convey that on your tour or activity website, then you run the risk of losing customers to someone else who does, even though their experience isn't as fantastic as yours is.
Here are some tips drawn from walking tours on what kind of images you should be using, as well as how to arrange them on your website.
You should have images that…
Don't have people in them. These are your purely scenic, striking, and captivating images. These kinds of photos have a tendency to go viral because they trigger a sense of awe (and hopefully a sense of desire to see it with your own eyes!). Here's a good example from Blue Mountains Guides:
Also, it doesn't hurt that people love to share stunning pictures like these with their social media networks.
Do have people in them. Display photos with people in them, so that website visitors can imagine themselves at your tour or activity, putting themselves in the shoes of your former satisfied customers. AusWalk do a good job of this for their different kinds of trips: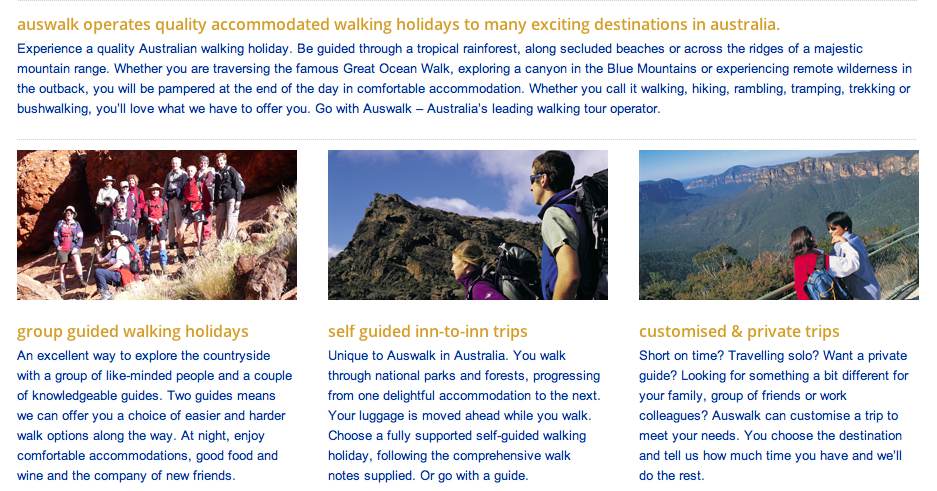 At a glance, it's easy to can imagine yourself experiencing the bushwalk as a self-guide, with a group, or in private with someone special.
Promote a new offer. Update your images for new promotions. This is in line with keeping your website's content fresh so that people have a good reason to come back. There's nothing more off-putting than an abandoned website that leaves people wondering, "if they can't even keep their own website in check, how do they take care of their customers?"
When organising your images…
Put your image 'above the fold' – by that, we mean don't force them to scroll down to see it. You need to make your website 'sticky'. People are so lazy that they won't scroll down if something doesn't catch their eye on the page. You have a few seconds to grab their attention, and images speak much louder than words.
Be careful not to overload a page with photos. One or more prominent images is more powerful than lots of little images. To get the best of both worlds, use transitioning slides.
Have a photo gallery. Everyone has a preference when researching their options, and scanning through imagery is definitely one of them. By grouping images of your experience in photo galleries, you cater to people who are specifically interested in looking at photos for your experience. Here's how Blue Mountains Guides designed their photo gallery:
Make sure your prospective customers have somewhere to go and browse photos quickly – and, that there's a clear path to making a booking with you from that place.
In the tour or activity sector, imagery is a website must-have. After all, why should prospective customers give your experience a shot when you aren't even showing them what to expect?
To learn more about using your website to grow your tour or activity business, please download our free eBook:
How do you use photos on your website? Where do you put them? Let us know in the comments section below.