As a technology provider to the tours and activities sector, we have heard a lot of opinions about online booking software over the years.  But not all of the advice that's being given is useful for tour operators.
We're here to clear it up for you so you can filter out the noise and make a balanced, well-informed decision: 
#1 "You don't need online booking software"
Why it's wrong:
Your customers want the option to book online – especially international travelers.
Over 50% of today's travelers will rush to the keyboard, rather than the phone to make their travel bookings. Tweet this stat!
60% of leisure and 41% of business travelers are making their own travel arrangements, generally via internet. Tweet this stat!
You and your staff could be spending time on more important tasks.
No one joins the tour and activity industry to be stuck playing phone and email tag all day.
Streamlining daily admin tasks means your staff can take better care of customers and plan ahead.
#2 "Don't change, it's not worth it"
Why it's wrong:
Online booking software will speed up your cash flow.
Less capital outlay for you, because there's no need to hire staff to manage customers, or pay rent for physical space.
Customers can book and pay immediately, so the money goes directly into your account.
It will help you stay a step ahead of your competition.
Almost 90% of tour operators are still taking bookings manually via email booking requests. Tweet this stat!
Only 46% of Australian tour operators with websites offer instant confirmation of booking. Tweet this stat!
It is much more efficient than paying staff to do tedious admin work.
You save time and money with an automated booking process in place.
There's less room for human error, meaning less double-checking that things were done correctly in the first place.
#3 Just build it yourself
Why it's wrong:
It is very expensive and time-consuming to build and maintain your own online booking software.
While you have complete control, you are also responsible for the entirety of the costs.
You are responsible for maintaining the software, so when things go wrong, there's no support line – you will have to contact the developer.
What have we learned?
#1 In this day and age, you need online booking software.
#2 The benefits far outweigh the hassle of learning a new booking process.
#3 It's better to go with a software vendor than try to build it yourself.
And if you are interested in educating yourself on your online booking options, the information in our Buyer's Guide to Online Booking Software Selection for Tour Operators can prevent you from picking software that doesn't suit your tour or activity business:
Embed this presentation on your website
Copy and paste the code below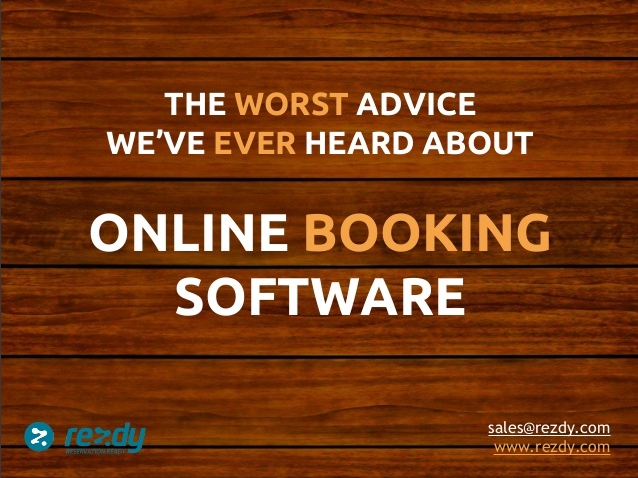 Have you received terrible advice in relation to online booking software? Share your story with us in the comments section below.