Facebook has been open about how it's targeting the travel industry. This is probably because in 2012, 42% of stories shared to users' Facebook timelines were travel experiences, making it the top story being shared by users.
Here's the bare minimum you should be using in your Facebook marketing toolbox.
1. Business Page
This is an obvious one, but we wanted to let you know of a cool benefit it brings. Similar to Google Maps, Facebook will display a map interface with businesses that match your description. For example, here's what a search for "tours in sydney" yielded: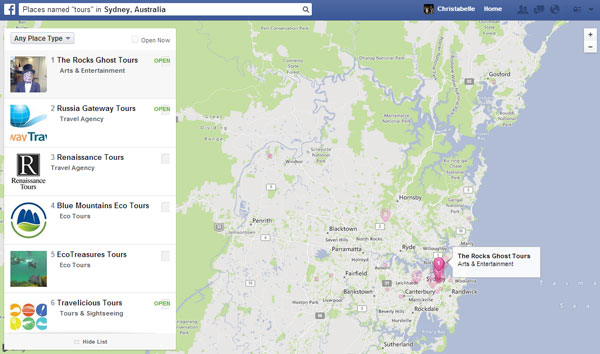 What this means:
Anyone on Facebook can search for your type of tour or activity and find you instantly, just like they would on Google. Make sure that both listings are optimised and up to date.
2. Custom Audiences
With Custom Audiences, you can retarget customers who expressed interest in you.
This is great because:
99% of travel customers visit more than 1 website when planning a trip (Forbes)
75% of travellers use social networks to find some sort of shopping related deal (PhoCusWrite)
Instead of knowing what search terms they used (as you would with Google AdWords, for example), you use the site pages that they visited to figure out their intent.
This is how the setup looks:
What this means:
You need to know what matters to the people you're marketing to based on what page they looked at on your site. Make your ad as specific as possible, especially if it's a deal.
Then tell them exactly how much it will cost, tell them when the offer ends, and definitely have "Book Now" somewhere in your ad copy.
3. Lookalike Audiences
Use Facebook's Lookalike Audiences to reach people who are likely to be interested in your business, because they're similar to a custom audience that you have created.
People will be similar in terms of:
Fan acquisition
Site registration
Outside-of-Facebook purchases
Coupon claims
Brand awareness
What this means:
You have the potential to reach a whole bunch of new people who are likely to become customers. However, you can only include people from one country at a time.
4. Graph Search
With the newly introduced Graph Search, people can now search for businesses within Facebook through friends and connections. Facebook will display search results based on friends' previous checkins and posts. Then you can can read friends' reviews on that business to help influence your decision.
It's currently in beta but is available for English audiences to try.
What this means:
Tour operators need to list with Facebook through the aforementioned business page and provide complete information about their products on their Facebook page. They also need to go and install the Facebook Reviews widget on their Facebook Business Page.
If you would like to learn more about social media for tour operators, download our free ebook: