Processing transactions can be a pain, but it doesn't have to be! With Rezdy, getting paid is quick and easy. Here are 3 ways you can speed up that cash flow.
3 Ways to Speed Up Your Cash Flow
1. Accept online and offline payments
Rezdy gives you two ways to process your payments:
Online (automatic)
Through a payment gateway that integrates with Rezdy
Through PayPal
Through the Rezdy Vault (deferred payment processing, which is a mix of automatic and manual work).
Click here to learn more about your online payment setup options.





Offline (manual)
Rezdy allows you to process two types of offline payments, that take place after the time of booking:
Cash payment
Bank transfer
Click here to learn more about setting up offline payment options.





More information on setting up payments
Now, setting up payments can be a complex subject. If you would like to learn more, we created a bunch of educational content about it that will help you understand it in its entirety:
2. Send customers automatic payment request emails
Sometimes, you need to remind customers that you need to get paid! With Rezdy, you can easily set this up as an automated email.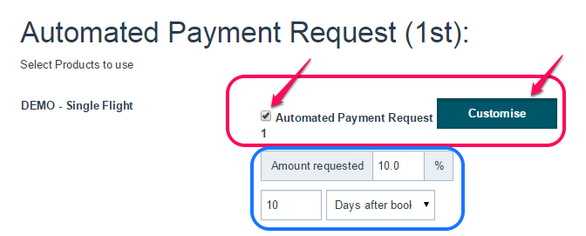 You can send up to three emails, and even ask them to do it installments or as a full payment!
Click here to learn how to set up automated payment requests.
3. Let Rezdy manage Agent payments
Working with agents? Let us handle the payments they accept on your behalf, and the commission payments that you make to them.
You have four options when it comes to accepting agent payments.

For example, if you have a $100 order and 20% commission on products:
Click here to learn more about setting up payment with agents.
Paying commission to your agents is also a breeze, because your account reconciliation report is all there in black and white.

Click here to learn more about Agent Reconciliation.
We also have two webinars you can watch at your leisure that will help you with agent relationships:
There you have it! Take advantage of your booking software to help you speed up your cash flow.
What's next?
Not logged in? Log into your Rezdy account.