A logo is an essential part of your business branding plan. You might be a small tour or activity operator in a coastal beach town, but that doesn't mean you don't need a logo that allows people to instantly recognize who you are and what you do.
There's even more competition out there online, so you need to create a logo that grabs attention wherever it's placed.
There are many benefits to having a logo designed specifically for your company:
1. Logos Create Business Identity
When you're creating your business logo, remember that this is the image your clients will remember you by.
Think about it — you probably recognize other large corporations in your world because of their logos.
When you look for a caffeine pick-me-up, you probably glance around to find the nearest green circle filled with a mystical mermaid, the universal symbol for Starbucks Coffee.
This is the type of corporate identity you want among your customer base. A good logo will allow them to recognize you in seconds.
Put your logo everywhere!
Once you've settled on the design, use it consistently throughout all of your marketing materials. Include your logo on your merchandise, and wherever your company is mentioned online.
The more places you put your logo, the quicker your customers will recognize it and the faster your brand identity will develop.
If they see your brand on your Facebook page, they will remember to "like" your page in order to receive more updates. Or if your logo is on a local sponsorship banner, they'll know you're investing resources in your community.
2. Logos Provide Visual Enhancement of Your Brand
Your logo should represent your company and what it does.
When you create your logo, you should:
Choose a color that will stand out, and make it a clean, crisp logo that is easy to read and understand.
Include the name of your company in some form, in order to intertwine your business name with your visual identity.
Try to give some sort of idea of what your business does, either with imagery or text.
Here's a good example from one of our customers, Go Car Barcelona: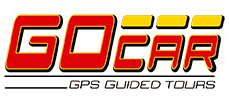 Brand strategies are an important part of developing your business and helping it grow each year, but they are essentially incomplete if you don't have a logo.
3. Logos Make You Look Professional
People are more apt to work with a company with a well-developed logo. Even though in reality it doesn't mean that one tour is better than the other, people might think that way because first impressions count.
For example, which logo looks better?
A good logo gives the impression that you have invested significant time and resources into developing your brand identity. The underlying message is you're a successful and legitimate company with enough money behind it because you can pay for such activities.
Your logo is a worthwhile investment.
This is your chance to get creative and develop an image that represents your tour or activity so be excited! Invest the time and resources necessary in order to create a logo that instantly conveys your mission and tells customers what they can expect.
If you're thinking about changing your logo, remember that consistency is key – even when you radically change it. Notice in the example above, Best Buy kept the yellow price tag incorporated into it.
Don't rush. Develop a logo that you love, one that you feel truly represents your business. If you can't decide between a few images, test it out with 10-15 of your customers at the end of a tour to ask them which they prefer.
In an online world where people make judgment calls in a nano-second, your logo could be the factor that gives you the upper hand against your competition (provided your website looks professional, too).
For more online marketing tips for tours and activities, download our free ebook:
Did you like this post? Subscribe to our blog to receive updates via email.