We've already talked about how you can use social media for your tour or activity business, so today we're going to talk about growing your tour or activity's Facebook fan base. It's become common practice now to run special Facebook offers through competitions and giveaways, but if you're new to it all, then here are a few examples that highlight the basics you must cover when running Facebook contests.
#1 Promote your Facebook page
This may seem a little obvious, but it's amazing how many people simply forget to ask. How will anyone know you have contests on if they don't know you have a Facebook page? Have a look at what Jackson Hole Eco Tours does; not only do they rightly link to Facebook on their "About Us" page, they name the page "Eco Tours on Facebook" which is good for search engine love:
You can also choose to put it on your home page like Adventure Kayaking SA does.
Or if you want to get fancy, you can install a free plugin like WordPress' Facebook Fan Box, which allows you to display a Facebook Fan Box on your website, like Kings of Leon did here:
Put it up on your most trafficked pages. We would recommend your Home Page, Blog (if you don't have one, it's time to start!), About Us, and Contact Us pages as the bare minimum.
#2 Give them a good reason to "Like" you
Many tour and activity businesses run contests where there's only one prize for one person out of the multitude of others that "Liked" their page. That may be a good enough reason for some, but many are discouraged by the odds being against them. Instead, why not implement a structure where everyone wins? That's exactly what Del Mar Surf Camp does: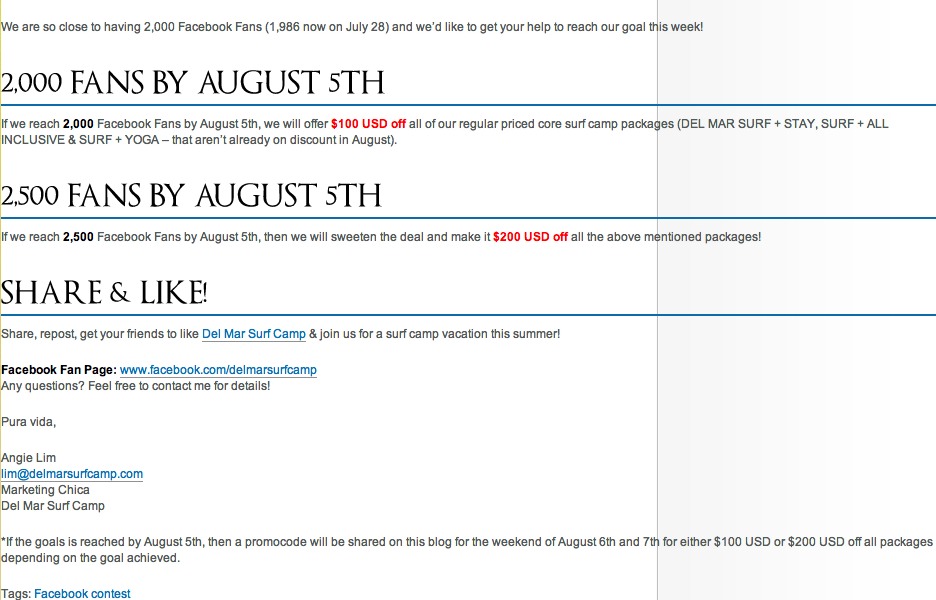 There's more incentive to participate when you know you can contribute to the end goal. Whether they reach 2,500 or 2,000 fans by August 5th, you will reap benefits by paying $200 or $100 less. That way, everyone's a winner!
#3 Have clear Terms & Conditions
Though this is often skimmed over as "the boring bit", you need to make sure that you're clear on your T&C's to cover your behind. Here's how Gecko's Adventures did it:
That way, upset entrants who won but failed to redeem their voucher can't blame Gecko's for awarding the prize to another random entrant. They should have read the fine print!
If you would like to learn more about using social media to grow your tour or activity business, please download our free eBook:
What have you learned from running your Facebook competitions? How do you run them? Let us know in the comment section below.