Overbooking is a hassle that all tour and activity operators try to avoid. You end up dealing with unhappy customers and spending time trying to amend the situation.
So it's important to try and strike a balance between minimizing overbooking while making sure you are booked out as much as possible. This is easy with Rezdy in place:
1. Avoid Overbooking, use a Resource Dependent Calendar
Rezdy's booking software is smart enough to only allow bookings to be made when a resource is available.
To you, a resource is something with limited availability, and is required to run your tour or activity. It can be a vehicle that's needed (eg. a bus) or a person (eg. an instructor).
For example, if you have multiple tours and only one shuttle bus to escort those tours, it can be difficult to adjust availability every time a tour is booked. In fact, you run the risk of overbooking without the resources to deliver.
Rezdy will automatically adjust the availability for all your tour options that need a particular resource. It does this as people book, so you'll never be overbooked and you don't have to adjust availability manually.
Click here for complete instructions.





2. Apply mass block out dates
Need to block out particular days because you're going on holiday? Worry not!
Rezdy's mass block out feature will allow you to remove all availability for a particular date on your Calendar and prevent bookings both, internal and online orders, to occur on that date.
That way, you can make sure that online bookers cannot book on those days, and prevent overbooking.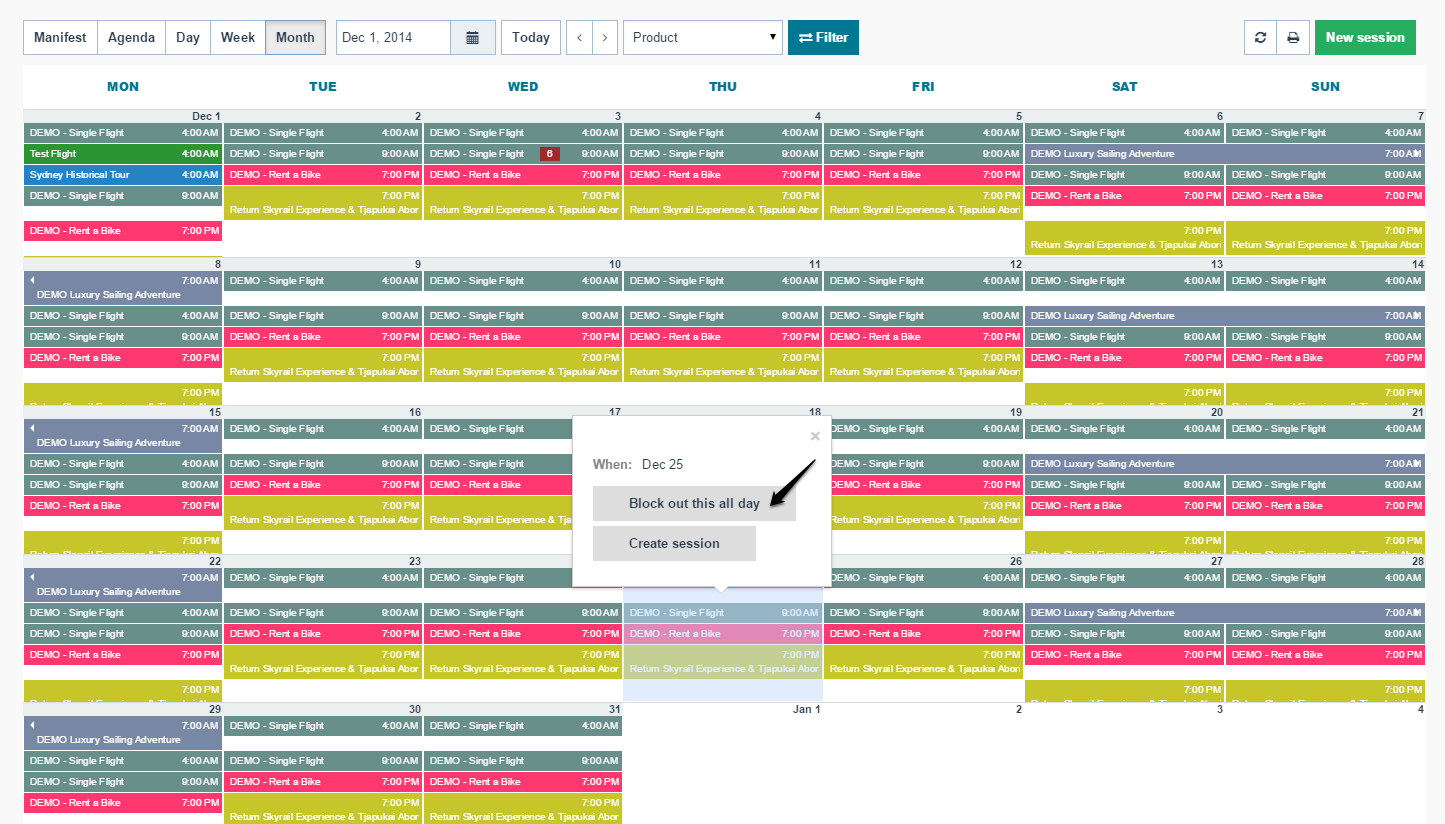 You will get a warning message regarding the fact that you are about to delete all of the sessions on this date. Once deleted they cannot be restored.  
Click here for full setup instructions.





3. Give Agents access to your live inventory
Working with Online Travel Agents (OTAs) is a good strategy, but can be difficult to manage on an ongoing basis without the right technology to back you. How can you ensure that you avoid overbooking when selling on multiple channels? How can availability be constantly up to date across your various distribution channels (without doing hours of admin work)?
While OTAs can easily find a similar product to satisfy customers, you lose out!
Rezdy is constantly working on connecting tour and activity suppliers to OTAs in an effort to consolidate the industry's data and open it to distribution. Rezdy's Channel Manager also takes care of updating your availability in real time across all of your distribution channels.
With Rezdy, you can manage your resources with top OTAs, thereby making channel management easy. Integration with large OTAs means that you can streamline your management process and expand your online presence.
Read this post to learn which online agents integrate with Rezdy.





What's Next?
Watch our webinar on resource management
Integrate Rezdy with several Online Travel Agents
Try Rezdy for free, we'll help you getting listed.