With the advent of technology, it seems like everything is becoming automated. As such, many tour operators worry that it means they may lose the personal touch when communicating with their customers.
But this is not the case. In fact, we would argue that technology allows you to service your customers better by making each experience consistent and more personal.
Here are 3 ways you can start doing it today.
1) Automating emails & texts, but keeping the personal touch
With Rezdy's Advanced Emails & SMS app, your customers' personal data can be automatically inserted into the confirmation, reminder and follow-up emails that you send them.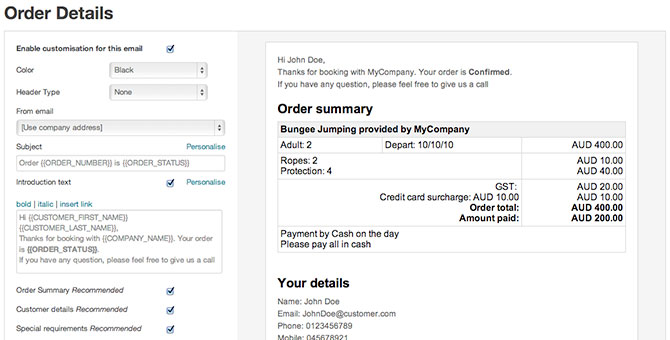 The system is smart enough to extract all the data related to their booking, like name and order status.
While theoretically you could keep the personal touch by writing personal emails for each of these, there's the risk of human error, and the amount of time that it takes you would mean that it would take up your whole day.
Install the Advanced Emails & SMS App.





2) Keeping track of communications
Another way to use technology to enhance the personal touch is by centralizing all your customer communications.
If you want to send one-off personal emails, Rezdy will log each interaction with your customers so that you can stay up to date on who has said what last. No more cross-checking and apologizing for not knowing something that was already said!
You can also track the delivery status of every email, so you can see in real-time whether it has reached your customer.
If an email bounced, you can call them up and say, "I noticed your inbox rejected my email so I thought I'd give you a call to make sure you knew what to bring to the tour."
This kind of personal touch in your customer service will impress them and make them feel valued.
Read up on email delivery tracking and email logs.





3) The personal touch in running personalized promotions
Without the tools to do it, it would take quite a bit of effort to track coupon and voucher promotions that you have going with your tour or activity. How can you tell who bought what, and whether it was redeemed or not?
With Rezdy it's all there in black and white.
Here are just a few ways you can personalize the promotions you run:
Offer people who bought a voucher but didn't redeem it another voucher at 10% off.
Send a discount voucher to people who were referred by your agents, so that they can either come back or give it to a friend who will.
Give away a piece of merchandise when they buy an extra (like a camera rental).
These kinds of promotions are backed by relevant data being tracked by your online booking software, making them way more relevant to your customers than generic promotions.
Start playing around with promo codes.
What's Next?
Install the Advanced Emails & SMS App.
Start playing around with promo codes.