Earlier this year, TripAdvisor announced the results of TripBarometer, the world's largest traveler survey with more than 35,000 respondents. Whilst some of its findings are more geared to the accommodations sector, its insights into economic outlook, travel planning, booking methods and traveler expectations are useful for tours and activities.
Here are the top 3 findings that tour operators should pay attention to:
1. Travelers prefer to book online
"With travelers going online for their travel research and planning, they are also showing preference for online as the primary booking channel." – TripAdvisor
Tour operators worldwide are being forced to adapt to the enormous growth of online reservations and services, with 57% of all travel reservations being made on the internet.
In fact, US business owners say their own website is the channel that generates the most bookings. This lines up with what Australian tour operators said in our survey on booking channel trends.
Beyond allowing site visitors to book instantly through booking software, tour operators need to invest in the entire online user experience of current and potential customers to spark an increase in bookings.
Make sure your site is easily navigable and not too cluttered. Simply laying all the information in front of them won't suffice, because it may be overwhelming. By having a well formatted site that is easy to get around you can make life a lot easier for your customers, encouraging them to stick around and make a booking.
2. Online channels amplify word of mouth
Surprisingly enough, when travelers are planning a trip, travel review sites are seen as more "useful" source of information than feedback from friends and family.
For global travelers, the most important sources that influenced their decision were travel review websites (69%), online travel agencies (57%), and tour operator sites (56%).

Tour operators need to perfect their online presence – not just on their website, but on all referring sites such as travel agencies and review sites. TripAdvisor and other social platforms should be leveraged as a way of showcasing their tour or activity through the feedback of past customers.
Having a strong social media presence will help not only with direct recommendations but also with legitimising your website as a modern enterprise interested in its customers. It will also identify you as a person, not a faceless entity. Be careful however, not to say too much about yourself or the tours you provide. Talk instead about why they should book with you and what will suit them best.
3. Travelers are always connected to the internet via mobile device
Travelers go online during their trips, finding local activities using their mobile devices 33% of the time. Besides that, they browse the web (51% of the time), upload photos (39% of the time), and post updates on social networks (34% of the time).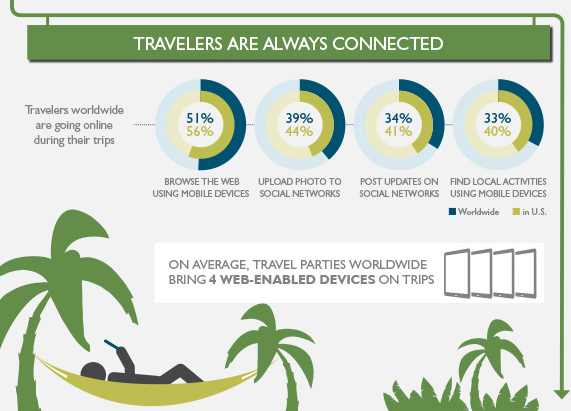 The numbers speak for themselves. If travelers are spending a third of their time looking for local tours and activities, then tour operators need to 'go mobile'.
Since they are probably using an application like Google Maps to find your business, it's essential to create a Google Business Profile with all of your contact information readily available. They will be able to either call you directly, or visit your website. If they choose to browse your site, allow them to book directly from their mobile device – otherwise, you risk them going to a competitor who does.
Today's travelers have come to expect a professional mobile booking experience. This means having a mobile-optimised website which enables mobile bookings, and sends them a confirmation email within seconds the booking is made. Your online booking system should have this available as part of your package.
If you're on the hunt for online booking software that will help you with the above points, download our free guide to selecting the right one for your tour or activity:
By the way, Rezdy checks all the above boxes, too. Click here to take a free trial.