Your website's booking form is so important to your success as a tour operator, because it's the place where a site visitor converts into a paying customer.
This is why it's so important to get right. Here's how you can make sure it's as optimized as can be.
1. Look Professional
Your booking form needs to look sleek and professional, otherwise your visitors won't trust you. In fact, 94% of people cite design as a reason they do not trust certain websites (Instant Shift).
To encourage trust,
Show a badge you've earned (eg. from TripAdvisor)
Showcase your social media profiles (proves that you are active online and have a following)
Avoid stock photography (you should have plenty of authentic photos of customers from your tours)
The same research shows that sites with dark color schemes generated more traffic than sites with light color schemes.





2. Be Mobile Optimized
Every day brings new statistics that show just how important mobile optimization is for your bookings. It would be just plain foolish to ignore the mobile trend.
Business Insider reported that mobile growth will outpace both total and online growth to account for more than 25% of total vs online travel bookings.
So your mobile booking site
Loads quickly (people are more likely to leave if it doesn't load in 3 seconds)
Functions properly (meaning as expected)
Is easy to navigate (a prominent "Book Now" button)
Someone who's willing to book your tour via a mobile device has made their decision already. Give them the means to make the reservation quickly before they change their mind.





3. Ask The Right Questions
Your booking form is also the place where you can collect all the information your need to run your tours efficiently and segment your customer database for your marketing efforts. This is why it's really important to get your questions right.
It's a balance of getting the information you need and making sure it's not so daunting that your prospects drop off. We recommend no more than 10 fields, and that you prioritise questions like "what are your dietary restrictions" over marketing segmentation questions like "where did you hear about us".
In Rezdy, create your custom fields for these more detailed and particular questions. They can be used for any product so you don't have to duplicate them. Remember that many countries have laws requiring you to ask certain questions depending on what your activity involves, such as asking your customers whether they have any dietary requirements if your activity involves food. So make sure you're familiar with the laws as well!





Your custom fields can be
Text (your customer types in their own answer)
List (you provide a list of answers that they have to choose from)
Checkbox (your customers check a box to answer your question)
Multi line text (your customers can provide an extended answer)
Then, you can choose to ask a question once per booking or ask a question for each participant.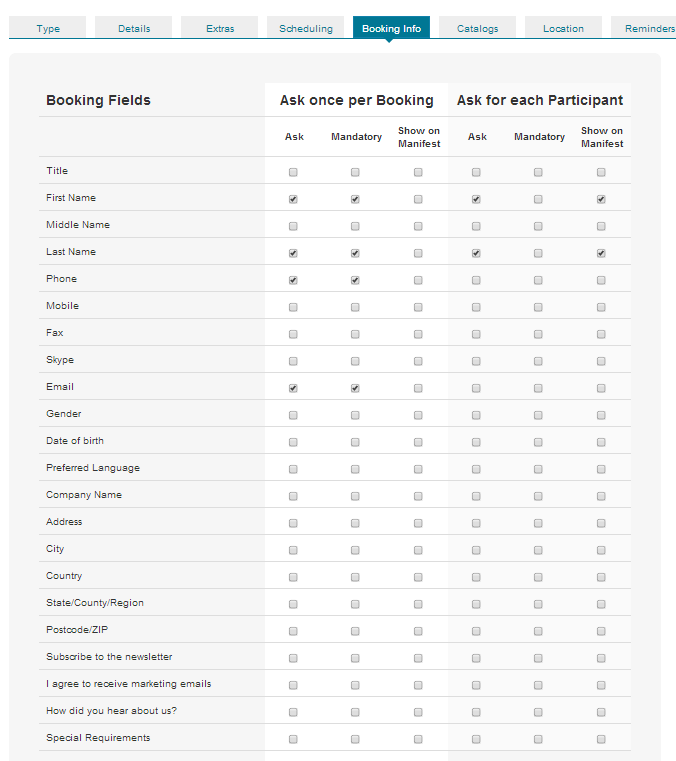 To make sure these questions are added to your Manifest, tick off "Show on Manifest". That way you can have all your information handy when you need it.





What's Next?
Learn more about web design tactics to get more bookings