In case you haven't heard, TripAdvisor Australia is about to become the number one website in the global travel industry's Destination sector. Their travel site lets travelers plan their trip through reviews of destinations, hotels and available activities. We've already talked about how tour and activity businesses can leverage TripAdvisor's Facebook app; Cities I've Visited. This week, we talk about why you need to make sure you have TripAdvisor (as well as other user review sites like it) on your radar, and how its power lies in its word-of-mouth recommendations (manifested in online reviews).
For tour and activity operators, TripAdvisor is a great vehicle for:
#1 Gaining Exposure
It's easy to grasp the connection between site traffic and business exposure, especially if the site in question is a mega-hub for travelers. Right now, TripAdvisor's Australian site only has one website in its way; Wotif.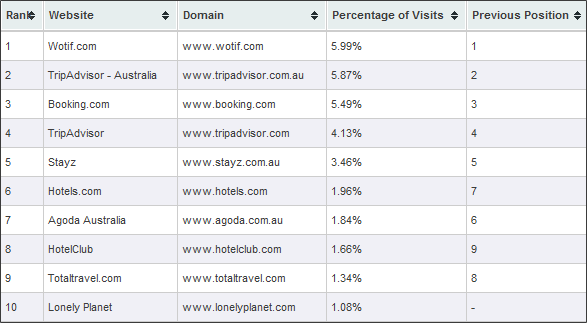 But TripAdvisor Australia is inching closer and closer to the finish line, with just a 0.12% gap in market share between them. In any case, if you list your business on sites like these, odds are you'll get found by lot of potential customers.
Also, if your online booking system is integrated with TripAdvisor and Facebook like Rezdy is (meaning they can book directly from your Facebook Business Page and connect to TripAdvisor's website), it's even easier for customers to share their experience with their friends. Since people value first-hand thoughts about an experience, such social media integration is good for business!
#2 Earning Trust and Credibility
Funnily enough, people trust what other people say about you more than what you say about you! That's just a fact of life. No one instantly believes everything a business tells them about what they're selling – and since you're selling an experience, your prospects need to know they're not going to waste their time and become disappointed. TripAdvisor helps to satisfy this human need by ranking businesses according to user reviews:
Instantly the traveler knows that these are the top-ranked attractions in Las Vegas. They can also compare how the owner describes the experience to the last three reviews about it. This review section is great if what's said is positive, but it also means that you become prone to unhappy customer posts that reflect negatively on your service:
How compelled do you feel to check out Wings Day Spa the next time you're in Vegas after seeing that? Not very. In fact, reviews are so powerful that they even made one user hesitate in using tickets that she got for free: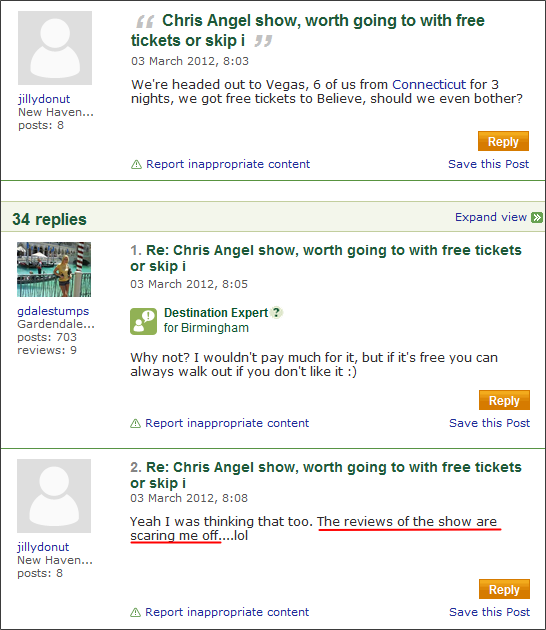 Instead of finding out for herself, she posts on TripAdvisor's forum and asks others whether Chris Angel's magic show is worth going to. Even though the tickets were free, she would rather not go than be disappointed. People are willing to do their own research by engaging with others online on forums like these to make sure they don't waste their time.  
#3 Listening & Adapting To Customer Needs
TripAdvisor's review section is a great way of listening to what your customers really think about your experience (as opposed to what they say when you're standing in front of them). Take it as an opportunity to get honest feedback so you so you can adapt your business to satisfy their needs. Making them happy should be your number one concern – the rest will come naturally:
Positive reviews come as a by-product of listening and adapting. Also, reviews that cite a recent change in the experience show past customers that there's something new to check out if they had a less than exciting experience before. Though the review section can make or break the perception of your business, don't let that scare you to the point that you don't list your service. Instead, see it as an opportunity to listen to your customers and get their honest opinions so you can adapt your business to their needs.
What Now?
List your business on TripAdvisor and other user review for travel sites. Add as much information as you can, including photos, so people know what to expect.
Ask customers to review and rate your business on one of these sites.
Don't abandon your profile but monitor reviews, and be sure to update essential information (like contact details).
If you would like to know more about how to grow your tour or activity business online, please download our free eBook:
Are you listed on any of the above sites? How do you handle negative reviews? Let us know in the comment section below.