You probably have all the obvious basics involved with setup covered, like uploading brilliant photos and videos, providing up-to-date contact information, and actually getting your customers to post (hopefully good) reviews on your page. So today we're going to talk about those little extras that you can use to promote your tour or activity business in a positive light. Here are three quick tips you can use to improve your current  Tripadvisor listing for your activities:
#1 Embed TripAdvisor Widgets
These free widgets are essentially buttons that drive people to your profile on TripAdvisor. Typically, they're placed on your website's homepage, but feel free to get creative and place them wherever you feel they will compel the most action. Since there are different kinds of widgets available, you can match them to relevant pages on your site. Remember to also add them to your Facebook Business Page and any other social media accounts that your business has.
Use these widgets to ask for reviews, link to reviews, and link to your photos. You can even get a "Certificate of Excellence" widget to show off how many 5 star reviews you received:
You can also take advantage of your current online booking system's social media capabilities. Some solutions, like Rezdy, allow bookings to be made directly from your Facebook Business Page, and connect directly to TripAdvisor's listings.
#2 Monitor Reviews…
For Guideline Violators
We already talked about how TripAdvisor is a great way to get honest feedback from your customers. Sometimes, though, that feedback might violate TripAdvisor's review guidelines. That's why it's so important to monitor your reviews at all times; you can report such cases straight away.
Fake travelers posting negative reviews should be your main concern in this case. TripAdvisor have a strict fraud detection system in place to weed those out, but you have to alert them to it first. The faster you report it, the faster it will be resolved.
For Critics
When it comes to unhappy customers, you should definitely get back to them. TripAdvisor allow for management response to each review, and advise management to structure their responses in this way:
It's especially important to respond to those extremely negative critiques. Take a look at how West End Water Sports handled a worst-case scenario review: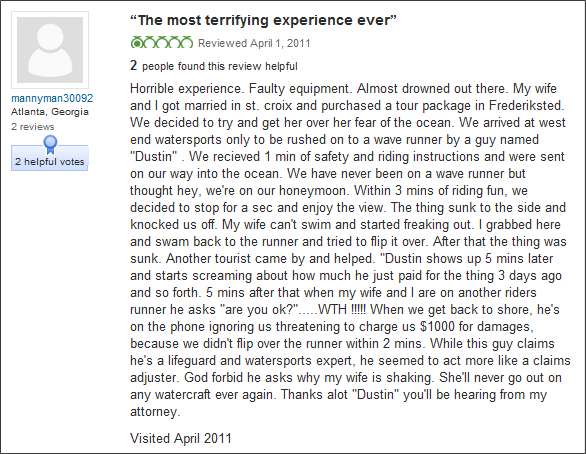 Eek! This bad experience might actually result in a lawsuit. This is what management replied: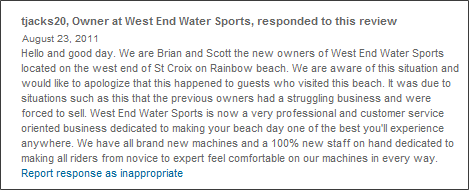 Hats off to Brian and Scott for addressing this issue in the right way. Not only did they own up to it (instead of ignoring it and hoping it goes away), they also clearly state that they're the new owners – which means it won't recur for anyone, because the business is being run by entirely new people. This lets those browsing their listing know they shouldn't fear being mistreated in the same way.
#3 Add a "Book a Tour" button
TripAdvisor is now converting its website visitors in real customers. Find out how you can add a "book a tour" button on TripAdvisor.
If you would like to learn more about how to use your website for your tour or activity business, please download our free eBook: